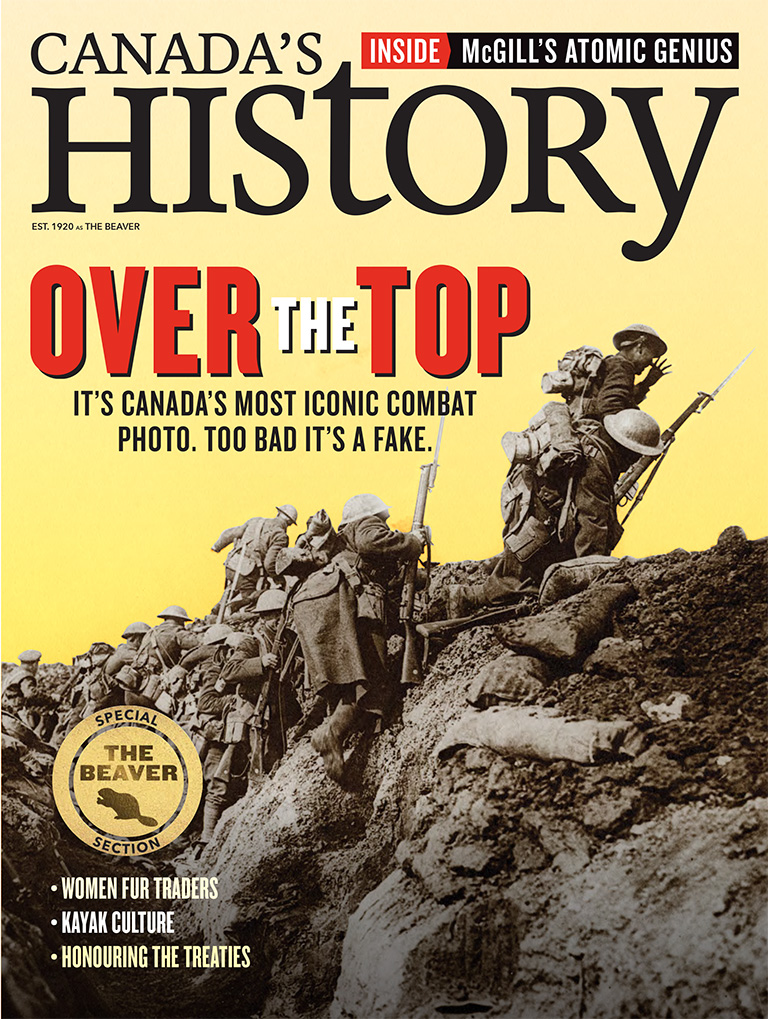 October-November 2023
Features
Nobel Pursuit
Ernest Rutherford's Montreal research won the world's top science prize. by John Hardy
Over the Top
How a photographer faked Canada's most iconic battlefield images. by Carla-Jean Stokes
On the Cover
Black and white photo, taken by photographer Ivor Castle, of First World War soldiers climbing out of a trench.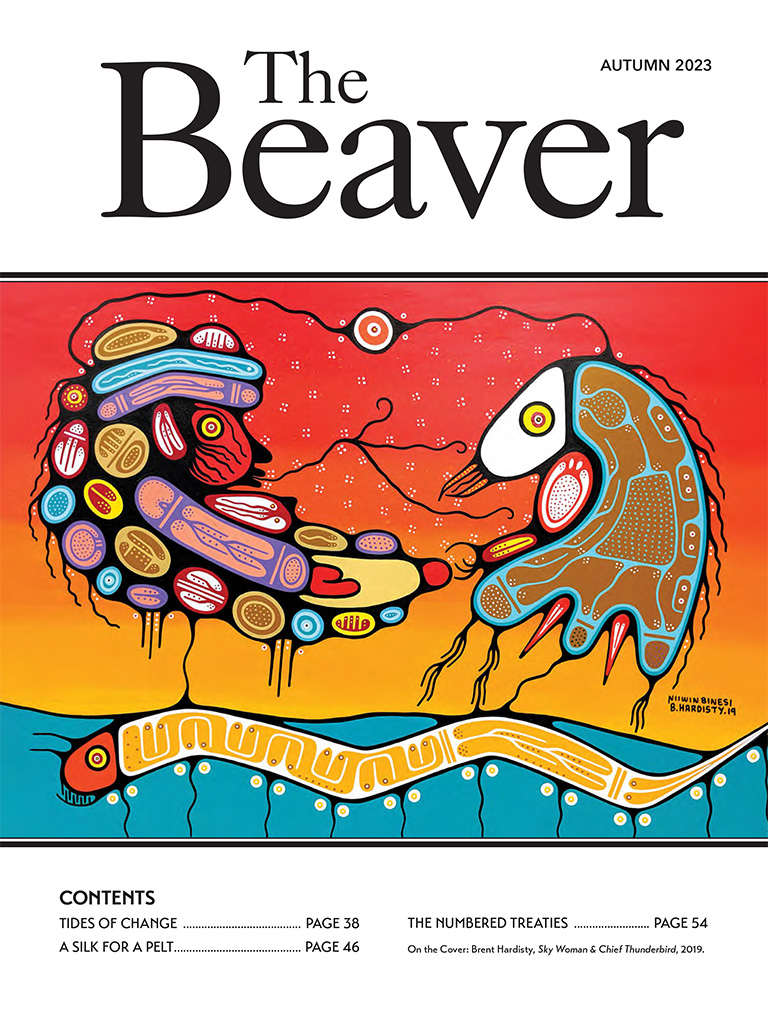 In The Beaver
Features
Tides of Change
Made of wood, bone, and animal skins, traditional Inuit kayaks were a marvel of naval engineering. by Noah Nochasak Watch the video
A Silk for a Pelt
The fur-trading women of New France dealt in luxury goods across the Atlantic Ocean.by Sienna Vittoria Lefebvre Read the article
The Numbered Treaties
Western Canada's Treaties were intended to provide frameworks for respectful coexistence. by Wabi Benais Mistatim Equay (Cynthia Bird) Read the article
On the Cover
Brent Hardisty is a woodland-style painter who works in acrylics on canvas. His spiritual name is Niiwin Binesi, which, roughly translated from Anishnaabemowin, means Four Birds. Hardisty was raised on Sagamok Anishnawbek First Nation in Northern Ontario. He spent eight years living and working in Toronto before moving back home. While in Toronto, he was greatly influenced by the city's graffiti subculture. His current artistic style has several influences, including his upbringing in northern Ontario and his appreciation of the works of Anishinaabe artist Norval Morrisseau.
Departments
Editor's Note
Changing course.
The Packet
Difficult decisions. Attending physician. Taking notes.
Currents
Abolitionist's legacy enshrined. Mohawk language dictionary. Welcoming Chinese refugees. From the archives: Holiday messages of hope. Bronco busting in Alberta. Drawing the line.
Destinations
At the museums: Artist Jean Paul Riopelle is being celebrated with several exhibitions marking the centenary of his birth.
Books
Fractured topography. Campus in the clouds. Revolutionary solidarity. More books: Working
women, travelling salesman, northern light. Read them all
Trading Post
Netsilingmiut people converted metal from an abandoned ship into an oil lamp.
History Matters
Reflecting on the biases that influence our views of the past.
Album
A factory foreman meets Prime Minister John Diefenbaker during an election campaign.
Themes associated with this article
Previous issues
Subscribe to Canada's History
Save as much as 52% off the cover price! 6 issues per year as low as $29.95. Available in print and digital.