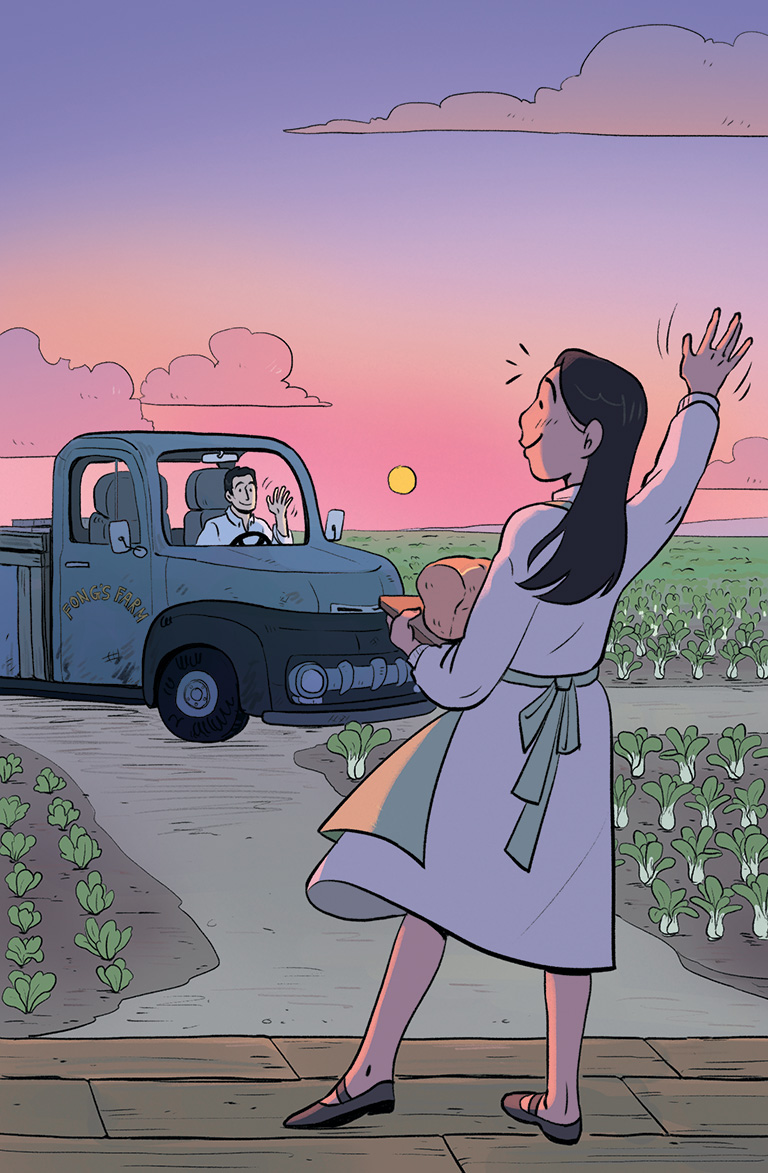 Autumn 1951, along the Fraser River in Vancouver
The last box of bok choy was finally loaded onto the truck. "Let's call it a day!" Fong Wing declared. "I'll drive this load up to Mr. Louie's tomorrow."
As the delivery truck for Fong's Farm parked for the night, Mr. Charlie, the landowner, came up to Fong. "Josephine has baked some fresh bread."
"I can smell that!" Fong exclaimed over his shoulder as he started back to his house to wash up.
Twenty-year-old Josephine Charlie lived with her parents. She helped manage their property on Musqueam First Nation land and prepared meals for the workers. The Charlie family owned the land and rented it to farmers who had come from China to British Columbia.
"Would you like to come to a party this weekend, Fong?" Mr. Charlie asked. "The government banned our potlatch for years, but it's back!"
Fong blurted out a "yes" before he could even think. It had been a long time since he'd had any sort of a break, let alone a party.
"That's perfect! You don't have to bring anything except an empty stomach!" Mr. Charlie said with a smile.
"Thank you, Mr. Charlie. I'll be there!" Fong thought that surely he could take one evening off from the back-breaking job of packing vegetables. He worked pretty quickly and his uncles were good workers, too.
Saturday came so fast. It is a Chinese custom to never show up empty-handed to a party, but he had not had time to buy a gift for his host. "I'll just pick the fattest, most delicious guylan in the field and bring the Charlie family a big box of it," he proposed to himself.
Box in hand, he joined the stream of people heading for the Charlies' potlatch. "Come on in, everyone," shouted Mr. Charlie over the loud music and powerful drumming.
"Here is a gift from our farm," Fong said as he handed over the choice green vegetables. He was mesmerized by all the sounds and sights inside Mr. Charlie's barn. He had never seen, smelled or heard anything like it. "Look at all the beautiful decorations and clothing . . . the rhythmic music . . . the smoky smell of salmon barbecuing!" he murmured to himself.
"Thank you, Fong. Your produce is always so fresh and tasty!" gushed Mr. Charlie.
"Welcome," Mrs. Charlie said as she served Fong a plate of food. He was enjoying his first bite of smoked salmon when he bumped into Josephine.
"Here is a new pair of gloves for you, Fong," the Charlies' daughter said as she made her rounds, presenting all of the young men with the same gift.
"Thank you," Fong said with a grateful smile. He had always heard potlatch hosts were generous, and now he had proof.
A little later, Mr. Charlie came by. "I am so stuffed!" Fong said.
"I'm glad! I used to help my parents prepare potlatches like this," the older man explained. "But when I was 17, the government outlawed our special events." He winked. "I am an old man now but I still know how to throw a party!"
"What's the occasion?" As Fong asked, he remembered the last time he celebrated Chinese New Year in his home village. It had been the Year of the Monkey. There was a lot of feasting, firecrackers and lion dancing – the whole holiday lasted almost two weeks!
"Two occasions," said old Mr. Charlie. "The birth of my twin grandchildren and the government allowing potlatches again!"
One year later Mr. and Mrs. Charlie were planning another potlatch for another celebration. Fong and Josephine were getting married! The young couple couldn't help but grin as they watched Mrs. Charlie skilfully weave large cedar baskets to hold gifts for their guests. "Let's have our wedding right here on Fong's Farm," said Fong.
"You mean right here on my ancestral land that belongs to the Musqueam nation," Josephine countered.
"Yes, that is what I mean, sweetheart," Fong said cheerfully.
Josephine and Fong were married on a sunny spring afternoon in 1952 and she became Mrs. Josephine Fong Wing. She added to her traditional Musqueam plant knowledge as she learned about growing Chinese vegetables: baby bok choy, ong choy, siu choy, sai yeung choy and choy sum. Whenever someone asked, she always answered, "My favourite veggie is guylan with ho yow (oyster sauce) to dip it in."
Twenty-five years and six children later, Fong gave a little speech at his silver wedding anniversary banquet.
With a twinkle in his eye, arm around his wife, he declared, "Back in 1951 when Mr. Charlie invited me to his potlatch, I knew Josephine was for me — I knew I had made the right choy-ce!"
---
We made up the characters in this story but they are based on real people and situations. In 1940, Lin On Yuen Farm was one of thirteen farms run by Chinese Canadians along the Fraser River on Musqueam Indian Reserve #2. This is the farm on which Hong Tim Hing worked.
He had immigrated to Canada from China in 1920, at the age of 15, joining his uncles who had come before him. He worked other jobs before growing vegetables on land belonging to Seymour Grant. There, he met the landowner's daughter, Agnes, and they married in 1941. They had four children.
Their eldest son, now Musqueam Elder Larry Grant, recalls that all the farmers spoke Cantonese while he and his siblings were taught hən̓q̓əmin̓əm̓ (pronounced HUN-kuh-mee-num) by their mother. Larry says it was always a challenge to introduce himself. When white people asked, he would say he was "half Indian." They would correct him by saying he was "half Chinese." Because he didn't speak Chinese, he was not connected to his Chinese heritage.
Eventually, the farms closed as the land was turned into a golf course in the 1960s. You can find a documentary about the Grant family called All My Father's Relations on CBC Gem.
Themes associated with this article
Related to Settlement & Immigration